Create Your Own SPOTLIGHT BLUEPRINT
with TSUFIT

Tsufit has an amazing mind! She has the ability to think very logically and very critically. She also has the ability to cut to the chase.... She has lit a fire under me!
Ida Shessel, Speaker, Facilitator and Author
Tsufit's coaching is incredible. The connection I felt with her right off the bat was unbelievable...in the time of just 1 hour, I got FAR more value than I had been expecting...smart, practical, & something I could walk away from the session with & take massive action on.
Sean Patrick Simpson, Entrepreneur
I went, in the course of two hours, from a prepared flowery bull-shit speech, to a very spontaneous, no note cue-card kind of speech... You helped me make the leap forward.
Beverley Ogus, Psychotherapist

---
Are you ready to Step Into The Spotlight?


" I am a estate litigation lawyer and I have worked with Tsufit the last few months. We are working on focusing my practice on more productive files and raising my profile and building my brand.

In a relatively short time, Tsufit has helped me to get bigger retainers, raise my hourly rate & even have clients volunteer to give me more money than I requested!

After 30 years, I am now enjoying practicing law more than ever! With Tsufit's help, I am beginning to see results already and I am a better lawyer and person.
Thanks, Tsufit for helping me Step into the Spotlight!"




Charles Ticker, LL.B. Estate Litigation Lawyer.





Want Tsufit to guide you to make your plan?

You'll get 4 private 90 minute private coaching & strategy sessions with Tsufit over a 1 month period to create YOUR OWN personal Spotlight Blueprint.



"Tsufit is a complete 'say it like it is' visionary!

She has helped me find clarity when, believe me,
nobody else could!

She found clarity with what I truly do and who I truly am. She made me really understand that who I was and what I am doing was actually creating this "Bargain Movement" across Canada and not just selling bargains.

I truly could not have followed this path if I had not gone through extensive coaching with Tsufit. And, I have to tell you, this path is the right path. She's a woman of incredible insight and has incredible intuition on top of that.
There is no other like Tsufit."

Thanks Tsufit.




Jody Steinhauer, CEO of The Bargains Group (aka "Bargain Jody")
Canada's Favourite Bargain Resource www.bargainsgroup.com




WARNING! Tsufit is known internationally for her bluntness & may not appeal to everyone! If you need your truth prettied up and tied in a ribbon, this may not be for you. If you are serious about accelerating your path to getting known & getting noticed & can handle honest feedback, you'll LOVE working with Tsufit!


"Tsufit, You are absolutely terrific!
You've been incredible in building my confidence and my vision!"

Catharine Fennell, President, Market Yourself Smarter




Tsufit's Spotlight Blueprint Contains the Secrets
to Transform You from Salesman to Star!

"Tsufit… During the course of our conversation
I had occasion to refer you to Ted as a "genius".
I must say that I mean that sentiment entirely!

Over the course of the six years that I have known you, I have seen you in action as an accomplished speaker and an inspiring counselor/consultant. The latter we had first hand experience of in our business.

Early on, my partner had difficulty speaking in front of groups. With your tutelage she learned to overcome that problem and has recently been featured both on radio and TV and appears in several community newspapers. You have not only helped in building her confidence as a speaker, but also in helping her define her image as the face of the company.

Our brand is now becoming well known. Over the course of last year, the number of schools served by The Lunch Lady doubled and is up a further 20% in the first six weeks of this year! We are currently serving approximately 6,000 lunches per day.

Congratulations on your new book. I am sure that this will allow you to inspire and assist others as you have done for The Lunch Lady. A true genius".

James A Essex, MBA, CA - Chairman, The Lunch Lady


Because you will be working with Tsufit one on one to personalize YOUR Spotlight Blueprint, there are only a limited number of Private Spotlight Blueprint Strategy Sessions available.

Click the Blue Button below to claim YOUR spot NOW!

LIMITED TIME ONLY BONUS!!!

The Spotlight Blueprint! Double Audio CD Set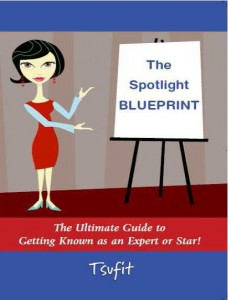 $47 VALUE!

"Tsufit is actually putting us on the map!
Definitely! ...We first came to Tsufit in the summer to help us prepare and perform unique wine tasting events. We were particularly interested in developing more humour in our presentations.

We've been working with Tsufit for a few months now. When we started off, we didn't know who we were. Tsufit gave us direction and helped us break out of boring mode. We now see there are great things ahead of us and we know we're on our way. Great great coaching sessions.

It's an incredible journey and we know Tsufit has a lot to do with it!"
Susanne Seelig-Mense and Georgia Chase, The Wine Ladies

PS. Editor's Note:
This testimonial was given a few years ago. The fabulous Wine Ladies now have their own radio show on 1050 CHUM and a weekly newspaper column.

Where will you be in a year from now if you DON'T do this?




Click the Blue Button below NOW!
See YOU in the Spotlight!