Calling All Entrepreneurs, Professionals, Business Owners, Speakers, Coaches, Consultants!

Are You Ready to

Stand Out as an Expert, Authority or Celebrity?


Make 2017 the Year You Finally

Step Into The Spotlight!
With a BOOK!

Want to write a book that will position YOU as an expert in your field?
Want to attract new clients?

I give Tsufit 2 thumbs up, way up. The content, design and delivery of her programs are well worth the investment. Tsufit's on a mission to elevate her clients' enterprises and profit potential --and she did this in spades with our business. Her marketing & coaching acumen is undeniable- she'll get you where you want to go.
Jocelyn Azada, CEO Promotional Product Solutions
Tsufit has an amazing mind! She has the ability to think very logically and very critically. She also has the ability to cut to the chase.... She has lit a fire under me!
Ida Shessel, Speaker, Facilitator and Author
Tsufit's coaching is incredible. The connection I felt with her right off the bat was unbelievable...in the time of just 1 hour, I got FAR more value than I had been expecting...smart, practical, & something I could walk away from the session with & take massive action on.
Sean Patrick Simpson, Entrepreneur
---

TSUFIT, the Author of the Award Winning Book

STEP INTO THE SPOTLIGHT! : A Guide to Getting Noticed,

has put together a BRAND NEW special program for entrepreneurs, authors, consultant, independent professionals, speakers, coaches, small business owners who want to
STAND OUT and Get Noticed THIS YEAR with their very own BOOK!

DO YOU HAVE BOOK ENVY?

Got book envy?

I did for years.

Until I finally got off my butt and did something about it.
I'd see people walking around holding a book they wrote
& I'd think "Why them and not me? I could do that."

But I didn't.

Oh, I planned to. When the time was right...

When things slowed down a bit in my business...

Only things never slowed down.
And the time was never right.

So one day, I did it anyway!

And I gotta say, it's the smartest move I ever made.

It didn't happen overnight.

But it changed everything!

It brought me tons of clients, speaking engagements
higher fees, media attention, even a Silver Medal...

But it doesn't always turn out that way.
People are so eager to have a book that they just
vomit anything on paper & ship it off to the printers.

I didn't "write a book in a weekend" as some courses promise.
In a weekend? Really?





Hi There! Tsufit here.

Since the release of my book, Step Into The Spotlight!,
I've received many inquiries from entrepreneurs who confess that

They HATE selling themselves!

It's frustrating to be great at what you do but not know how to get the word out.

Isn't it?

How will your audience know?

Wouldn't it be amazing if you could totally BE YOURSELF and know you can still attract clients who will pay you money for what you do?

If you could STAND OUT and get the attention, recognition & the respect you deserve?

You can.

But you gotta position yourself in the marketplace as an expert,
a guru, an authority at what you do.

TSUFIT'S STORY

For the past 10 years, I've been coaching entrepreneurs to be stars, to get noticed, by the media and by the crowds. Some of these clients now have their own radio shows, TV shows, newspaper columns or have been named Entrepreneur of the Year.

My own journey into the spotlight started when I left my downtown litigation law practice to become an actress, singer and comedienne. Within a few short years, I had landed a role as a comedic cafeteria lady on a national TV sitcom, my music CD made top album lists on radio around the world and I appeared doing standup comedy both live and on national TV. I got lots of publicity, radio, TV and feature newspaper articles and there was even a national TV documentary about my life and career.

Entrepreneurs and business owners and authors started asking me to show them how to attract attention and entice clients and before you know it, I'm a coach! No marketing degree, no coaching certification and still they come...

I have many clients with MBA's and PhD's and several who have been named Entrepreneur of the Year or Top 40 Under 40 before they even met me. So why do they come to me?

Because I knew something that they didn't know. That ALL Business is Show Business! And who better than an entertainer to show entrepreneurs and consultants and speakers and business owners and "the suits" how to stand out and attract an audience. That's what I do. I show entrepreneurs, consultants, authors, speakers, coaches, independent professionals & business owners how to get seen, get heard, get noticed & get known. And one of the very best ways of doing that is by writing a book!

Here's the book that changed everything for me!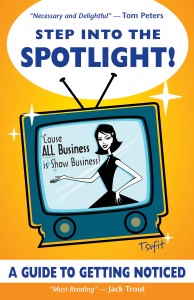 Would YOU Attract More Clients As the
Author of a Well Respected Book?

You Know You Would!

But not just any old book. Everyone and his dog is churning out some kind of book nowadays. What you need to really stand out in the marketplace is a Spotlight Book!



What's a Spotlight Book?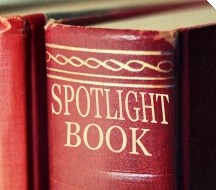 It's a book that not only positions YOU as an expert but attracts! Big Time!

Make 2015 Your Breakthrough Year!




"Tsufit, You are absolutely terrific!
You've been incredible in building my confidence and my vision!"

Catharine Fennell, President, Market Yourself Smarter


What are you LOSING by continuing as you are?


Are You Letting Perfect Clients Slip Through Your Fingers
Because You Don't Know How to Get Their ATTENTION?

Does it sometimes feel like you're WASTING YOUR TIME (and money) at all those networking events?

What if were a recognized author of a well respected book? What if you could get prospects to not only learn all about you and what you do but pay for the privilege of learning about you and your services?

How many new clients would it take to make back your investment in learning how to do this well? One? Half of one? This is measurable. You'll know right away if a prospect becomes a client as a result of reading your book, because he or she will call you and say "I just read your book. I loved it. Can you help me with..." Let me cut to the chase...


Announcing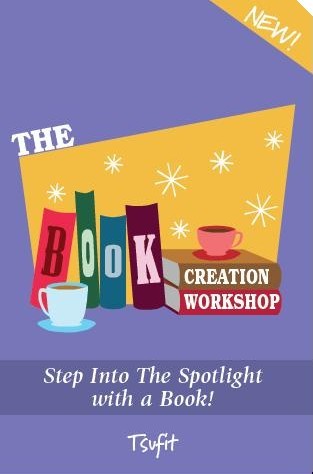 The Book Creation Workshop


A 10 Week Online Program Guiding Entrepreneurs & Professionals to Write Their Very First Book!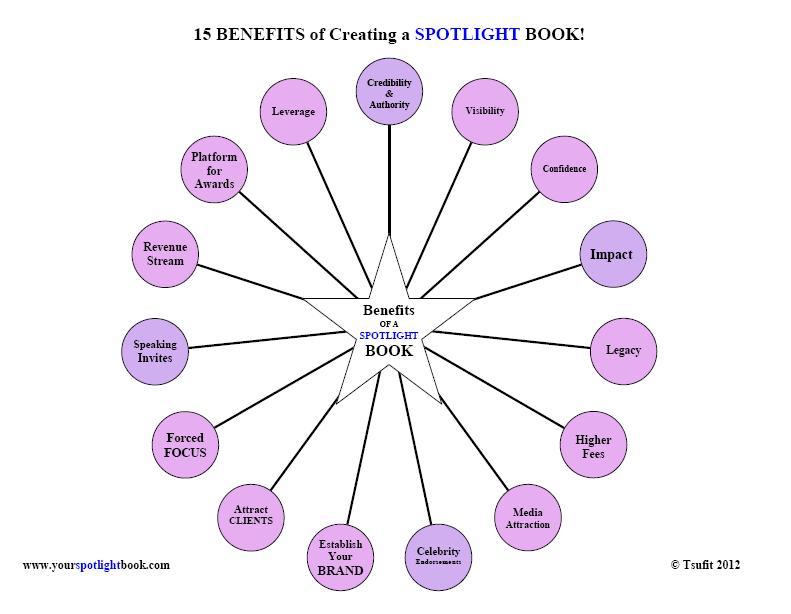 Or Choose

"Tsufit is actually putting us on the map!
Definitely! ...We first came to Tsufit in the summer to help us prepare and perform unique wine tasting events. We were particularly interested in developing more humour in our presentations.

We've been working with Tsufit for a few months now. When we started off, we didn't know who we were. Tsufit gave us direction and helped us break out of boring mode. We now see there are great things ahead of us and we know we're on our way. Great great coaching sessions.

It's an incredible journey and we know Tsufit has a lot to do with it!"
Susanne Seelig-Mense and Georgia Chase, The Wine Ladies

PS. Editor's Note:
This testimonial was given a few years ago. The fabulous Wine Ladies now have their own radio show on 1050 CHUM and a weekly newspaper column.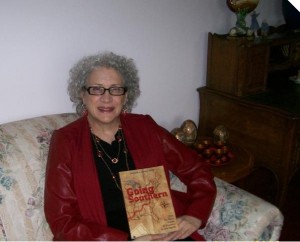 "I really appreciate your course on how to write a book. I wouldn't have written Going Southern without it." Deborah Levine, Author, Going Southern




You'll learn the 7 Simple Steps to Stepping into the Spotlight with a BOOK!
Step 1: Prepare & Position It!
Step 2: Plan It
Step 3: Pen It!
Step 4: Pile, Punch, Polish & Proofread It!
Step 5: Package It!
Step 6: Publish It!
Step 7: Promote, Publicize & Present It!
>



Have you ever met someone who changed your life
and your business?
I have and her name is Tsufit.

I met Tsufit at a Conference a few years ago when I was first launching the Diva Toolbox. I had no idea she would be one of the people that would guide my path to where I am today. Five years ago, I was invisible. I did not know many people beyond my own circle of family, friends and coworkers. I knew when I launched the Diva Toolbox I would have to put myself out there to be seen and heard. I just didn't know how hard it would be, even for an extrovert like me. Tsufit's workshop and book taught me the tools and tips to step into the spotlight, her advice and reassurance gave me the courage to do it right. If you have not read Tsufit's book, Stepping into the Spotlight, you should, TODAY. Whether you are an entrepreneur or working in corporate America, you MUST learn what Stepping into the Spotlight can do for your business and your career...because as Tsufit says -
"All Business is Show Business".
***
Janet Powers, Chief Executive Diva, DivaToobox.com





"Tsufit… During the course of our conversation
I had occasion to refer you to Ted as a "genius".
I must say that I mean that sentiment entirely!

Over the course of the six years that I have known you, I have seen you in action as an accomplished speaker and an inspiring counselor/consultant. The latter we had first hand experience of in our business.

Early on, my partner had difficulty speaking in front of groups. With your tutelage she learned to overcome that problem and has recently been featured both on radio and TV and appears in several community newspapers. You have not only helped in building her confidence as a speaker, but also in helping her define her image as the face of the company.

Our brand is now becoming well known. Over the course of last year, the number of schools served by The Lunch Lady doubled and is up a further 20% in the first six weeks of this year! We are currently serving approximately 6,000 lunches per day.

Congratulations on your new book. I am sure that this will allow you to inspire and assist others as you have done for The Lunch Lady. A true genius".

James A Essex, MBA, CA - Chairman, The Lunch Lady




Step into the Spotlight
with a Book!



You'll work at your own pace to finally create the book you've always wanted to write. Every week for 10 weeks, you'll get a new module (8 content and 2 behind the scenes modules).

Tsufit's Private Clients have paid thousands of dollars for coaching over the last 10 years, but for the first time ever, you will feel like Tsufit is on your team as you listen to her guiding a group of entrepreneurs and professionals just like you to create their books. And best of all, you get to learn at your own pace in the comfort of your own home.



But wait! There's More!

BONUS: Downloadable INSIDER INTERVIEWS

On top of the regular Book Creation Workshop modules, Tsufit sought out industry insiders and grilled them on stuff you're going to want to know about, practical stuff like: * What's the quickest and easiest way to create your content?
* How do you turn your pile of papers into a professional looking book?
* How do you publish your book?
* How can you sell your book outside the bookstore?
* How can you promote & publicize your book?



But wait! There's More!

The First 10 People Will Also Get These Valuable BONUSES!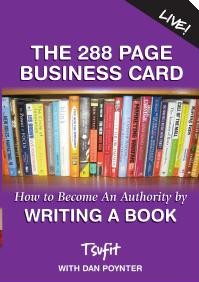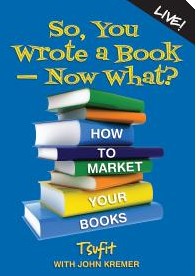 These are double CD featuring Tsufit interviewing 2 of North America's top book industry experts.
In the 288 Page Business Card ($47 Value), you'll learn from Dan Poynter who has written 128 books and has been on all 3 sides of the table as a self published author, a conventionally published author and as a publisher of others. Dan helped Mark Victor Hansen and Jack Canfield when they were creating Chicken Soup for the Soul.


In So You Wrote a Book, Now What? ($47 Value), you'll learn how to market your books from John Kremer and Tsufit. John also guided Mark Victor Hansen and Jack Canfield in promoting their hugely successful Chicken Soup series.


These audio CDs along with Tsufit's recommended vendors & suppliers will be very valuable as your book project starts to take shape.





" Hi, my name is Chuck. I'm an estate litigation lawyer and Tsufit has been working with me, coaching me for the past several months and it's just been a
terrific experience!

I've been a lawyer for just over 30 years now...and what Tsufit has got me to learn is that certain parts of my practice really weren't working for me. I wasn't enjoying them, they were not productive and she's got me focusing now on the area that I really do enjoy and for the first time in a long time, I'm really looking forward to going to work every day.

Also, she got me increasing my hourly rate to a level that I didn't expect to achieve at this point, this quickly, also getting me to the point where I'm getting larger retainers from clients & even having clients give me more of a retainer deposit than I'm even requesting, which has never happened!

...Obviously something is working there. It's building up the confidence; it's the way I now come across to people that is making the difference.
So, Tsufit, whatever you're doing, keep on doing it, 'cause it's just terrific!

You're amazing!



Charles Ticker, LL.B. Estate Litigation Lawyer.





Who is The Book Creation Workshop for?

This program is perfect for entrepreneurs, speakers, authors, coaches, independent professionals (like lawyers, financial advisors, accountants, real estate agents), entrepreneurial CEO's, consultants and business owners--people who call their own shots.

In most of my programs, I warn that the programs are NOT suitable for network marketers, franchisees, poets, fiction writers, middle managers or employees but in this case, it's hard to think of anyone who couldn't benefit from writing a non-fiction book to support his or her business. So, who is this for? It's for YOU!


What's the Investment?

Just $2497 $1997

(plus tax where applicable)

But only IF you're one of the first 10 to register so if you snooze you lose!
Discount Disappears After 10 Registrants!
So Take Action NOW!


DO NOT WAIT! Lock in your spot NOW!

"This was amazing! I've been a Toastmaster for years and I've given many speeches so I thought, what's Tsufit going to teach me that I don't already know? But it was amazing. She helped me so much, she brought things out of me I didn't know were there. Great stories. Great stuff, that's going to make this a fantastic speech."

Sylvia Morris, Sales Representative, Century 21 Leading Edge Realty Inc.
Master's Club Hall of Fame, #6 in Canada for Century 21, 2005




Do I Have to Travel?

Nope. That's the best part! You get to lounge around in your sweats & put your feet up 'cause you'll be in the comfort of your own home. No expensive hotel bills. No airport scanners. You'll go through the modules from the comfort (or discomfort lol) of your own home or office or take the phone out on the deck and relax with an ice cold lemonade..



What If I'm Away for Part of the Program?

That's the beauty of this work at your own pace program. The original participants had to be there every week for 10 weeks. You get the downloadable recordings to work through at your leisure.



But I'll Be at the Cottage or On Vacation for Part of the Summer

That's the beauty of it! There's no better time to write a book that in the summer, sitting on your backyard deck, on the beach, at the cottage, on an airplane. Your creativity comes when you break your routine, when you unchain yourself from your desk and start to dream. And you can download these from anywhere in the world where you have an Internet connection.



"Tsufit is bright, bubbly and upbeat..."

The Toronto Star




Should I Wait Until Tsufit Runs This Live Again?

Nope. Tsufit has no plans to run this program again.


Tsufit generally only does each new program once completely LIVE! And sorry, bubba. You missed it. But taking this program as an Online program has many advantages. One of them is that you get edited transcripts of all the sessions, something the original participants did not have access to. Also, all the audios are fully downloadable so you can listen to them any time any where instead of being tied to the schedule from the original program.


You Know You Need This! Register Now!

"Tsufit is a complete 'say it like it is' visionary!

She has helped me find clarity when, believe me,
nobody else could!

She found clarity with what I truly do and who I truly am. She made me really understand that who I was and what I am doing was actually creating this "Bargain Movement" across Canada and not just selling bargains.

I truly could not have followed this path if I had not gone through extensive coaching with Tsufit. And, I have to tell you, this path is the right path. She's a woman of incredible insight and has incredible intuition on top of that.
There is no other like Tsufit."

Thanks Tsufit.


Jody Steinhauer, CEO of The Bargains Group (aka "Bargain Jody")
Canada's Favourite Bargain Resource www.bargainsgroup.com




WARNING!

Tsufit is known for her blunt approach and may not appeal to everyone! The experts that she interviews in this series are pretty direct as well! If you need your truth prettied up and tied in a pink ribbon, this may not be the program for you!

On the other hand, if you are serious about accelerating your path to getting known and getting noticed and can handle a dose of reality, you'll LOVE this program!



Excited Yet?

I'm excited for you!

It's one thing to TALK about doing it.

But what counts is actually DOING IT!
This program will boost your confidence & help you STAND OUT!



Can I Upgrade to Get a
Personal Private Spotlight Book Creation Session with Tsufit?

Tsufit rarely takes on private clients anymore except through her Spotlight Circle VIP and Spotlight Elite programs. However, she has decided to offer a VIP version of The Book Creation Workshop available on a very limited basis. The VIP portion of Tsufit's last live program sold out quickly so don't wait! This may disappear at any time, so if you do not see a blue bar below this, it is no longer available.




Upgrade to VIP

In The Book Creation Workshop VIP , $2997 $2497 for a limited time (plus tax where applicable) you'll get the same 10 week Online program ($2497 Value) but you will also get a chance to work with Tsufit one on one. You'll get One 45 Minute PRIVATE One on One Telephone Session with Tsufit ($825 Value) to get feedback on your Spotlight Book Creation Project. (Private phone session must take place by the end the group program.) You'll get the same 2 CD Set Bonuses referred to above.

The value is really priceless! When and if Tsufit does take on private clients (rare--she hasn't taken on any new private clients in over 2 years), the private session rates start at $1297 and up--for one session! You've probably heard the expression "The Bonus You Cannot Buy!" This is not a Bonus. It's an Upgraded Investment in Yourself that you cannot access any other way.

NOTE: The ONLY difference between the VIP Upgrade and the regular Book Creation Workshop program is the 45 Minute Private Phone Session with Tsufit. If you have any hesitation at all about upgrading, don't. You'll get plenty of value from the regular program! The VIP upgrade is being offered only in response to the regular requests Tsufit gets for a shorter private one on one session which has never been available in all the 10 years Tsufit has been coaching entrepreneurs. Since there will only be a limited number of people accepted for VIP, leave it for someone who is sure. The last time Tsufit offered a VIP Upgrade (in her 30 Seconds in the Spotlight! group program, they sold out quickly! May disappear at any time!


People Will Invest for Just for This Rare Chance to Work With Tsufit Privately!

If Not Now, Then When?
When Will You Get the Recognition You Deserve?

" Tsufit, you are brilliant!
You've helped me turn what I now realize was a mediocre presentation into an excellent presentation. I have a much higher level of confidence than when I arrived. Thank you so much - You're great!"


Jennifer Beale, Unleash PR



See you in the spotlight!

Tsufit